Overview
If you want to share recordings with Students, either that have been recorded through Zoom or pre-recorded material you have created it is highly recommend you do this using a Panopto block in Moodle. Using the direct share settings in Panopto should only be used if you are sharing a recording with an individual or individuals who are not connected to a Module.
Why share recordings via Moodle?
Using the Moodle block to share recordings means you don't have to do any manual share settings as it is shared with only the students enrolled on the module. Recorded lectures, seminars or workshops when recorded to the cloud in Zoom can be moved from the host's meeting recordings folder in Panopto to the relevant module folder for easy sharing with students. These module folders are created when a Panopto block is added to a Moodle course. By adding recordings to the module folder in Panopto and approving them there it will then securely share the recording with only students enrolled on that course and is the recommended way to share content with students.
As well as Zoom recordings, any pre-recorded content for students created using the Panopto manual recorder that is stored in a persons my folder in Panopto can also be shared with students by moving it to the relevant module folder in Panopto to be viewed in Moodle as described above.
How to share recordings via Moodle
Why share recordings to an individual or individuals?
Recordings of Zoom meetings with other colleagues or content such as training videos where the recording only needs to be made available to specific people and is not linked to a module should share using the individual share settings in Panopto.
How to share to an individual or individuals
Navigate to your folder containing the recording on the Panopto server – https://plymouth.cloud.panopto.eu/ It will be in meeting recordings if it is a Zoom session or in your my folder if you have recorded using the manual recorder
Once in the folder hover the cursor over the video you want to change the settings for. So that the setting, edit, share, stats and delete options appear and click on the share option.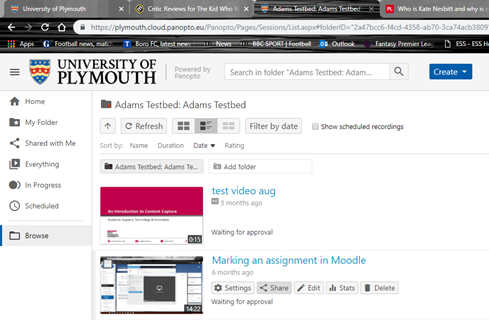 Specific people: type in the name of the person to share the recording with just that person
Anyone at the organization with the link: a viewer is required to have access to the link (see below for more detail) and a university account to be able to view this content. The video will not show up in any searches.
Anyone at the organization: a viewer is required to have an university account to access the video and it will appears in searches and in Everything section of the Panopto site. A university wide event or talk could have this setting attached to it allowing anyone with a university account to view and access the video.
Anyone with the link: a viewer requires access to the link but does not need a university account, will not show up in searches. Video content that needs to be visible to anyone (on a public facing web page for example).
How to change existing share settings
Once in the share menu you can change the share setting by clicking the downward arrow, select the share settings you want and click the blue save button that appears once the new setting is selected.